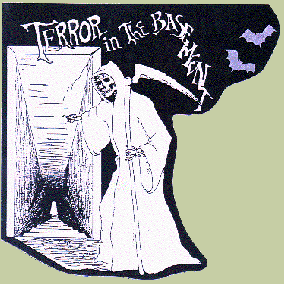 Haunted House
Experience 30 minutes of sheer horror in our BASEMENT OF TERROR! Descend into the darkness where monsters, manics and demons haunt the narrow and twisted paths. A journey into the mysteries of the past. Was it Real? An Illusion? Or was it all in your mind??? Only YOU will know. Come see one of the best and most popular "Haunted Houses" in the area. But, Remember, Do not come ALONE!
Dates for Haunted House:
October 11 - 13, 2002
October 18 - 20, 2002
October 25 - 27, 2002
Times:
Fridays & Saturdays 7:00 p.m. to Midnight
Sundays 6:00 p.m. to 10:00 p.m.
General Admission: $8.00 per person
Groups of 15 or more receive a $1.00 per person discount
Children 12 & under receive a $1.00 discount - Sundays only